New Years Eve Menu
Note. ALL RECIPES USING METRIC CUPS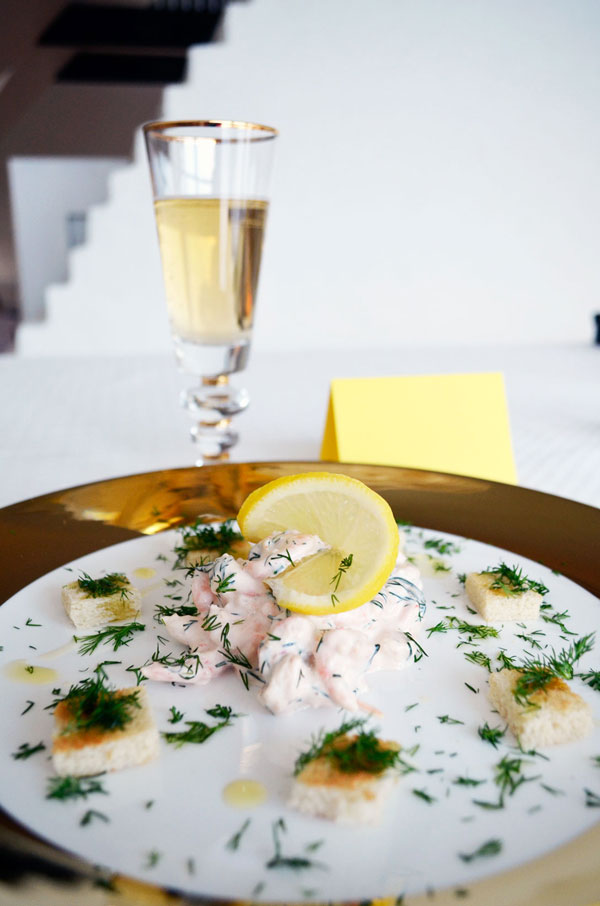 TOAST SKAGEN
Toast Skagen is one of the most common starters in Sweden. The base is hand-peeled shrimp mixed with mayonnaise, served with buttered toast.
8-10 people
TOAST SKAGEN
800 g shrimp
0.6 – 0.8 cups sour cream
0.6 – 0.8 cups mayonnaise
roe or caviar
lemon
dill
pepper
salt
ev. horseradish
white bread
HOW TO DO IT:
1. Peel the prawns.
2. Mix together mayonnaise and sour cream in a separate bowl.
3. Stir in fish roe and sliced dill (save some for garnish).
4. Mix the mayonnaise mixture with the prawns. Do not take it all at once, but take a little at a time until you get the right consistency of mayonnaise mix. It should be pretty solid
5. Season then with salt and pepper. Squeeze the lemon to taste, and perhaps a little grated horseradish.
6. Fry the slices of bread with plenty of butter. We chose to do little bits, croutons.
7. Ad a large dollop of mayonnaise mix in the middle of the plate. Place the bread pieces around. Squeeze some lemon and sprinkle with chopped parsley. Finish with a slice of lemon on top.
–
TOAST SKAGEN
Toast Skagen är en av de allra vanligaste förrätterna i Sverige. Basen är handskalade räkor som blandas med majonäs och serveras tillsammans med smörstekt toast.
8 -10 personer
TOAST SKAGEN
800 g räkor
1,5-2 dl creme fraiche
1,5-2 dl majonäs
löjrom eller stenbitsrom
citron
dill
pepper
salt
ev. riven pepparrot
vitt bröd
smör
GÖR SÅ HÄR:
1. Skala räkorna
2. Blanda ihop majonäs och creme fraiche i en separat bunke.
3. Rör ner löjrom och klippt dill (spar lite till garneringen).
4. Blanda majonäsblandningen med räkorna. Ta inte allt på en gång utan ta lite åt gången tills du får rätt konsistens på skagenröran. Den ska vara ganska fast.
5. Krydda därefter med salt och peppar. Pressa i citron efter smak, och ev. lite riven pepparrot.
6. Stek brödskivorna i rikligt med smör. Vi valde att göra små bitar, krutonger.
7. Lägga upp en stor klick av skagenröran i mitten av tallriken. Placera ut brödbitarna runtom. Pressa lite citron och strö över klippt persilja. Avsluta med en skiva citron på toppen.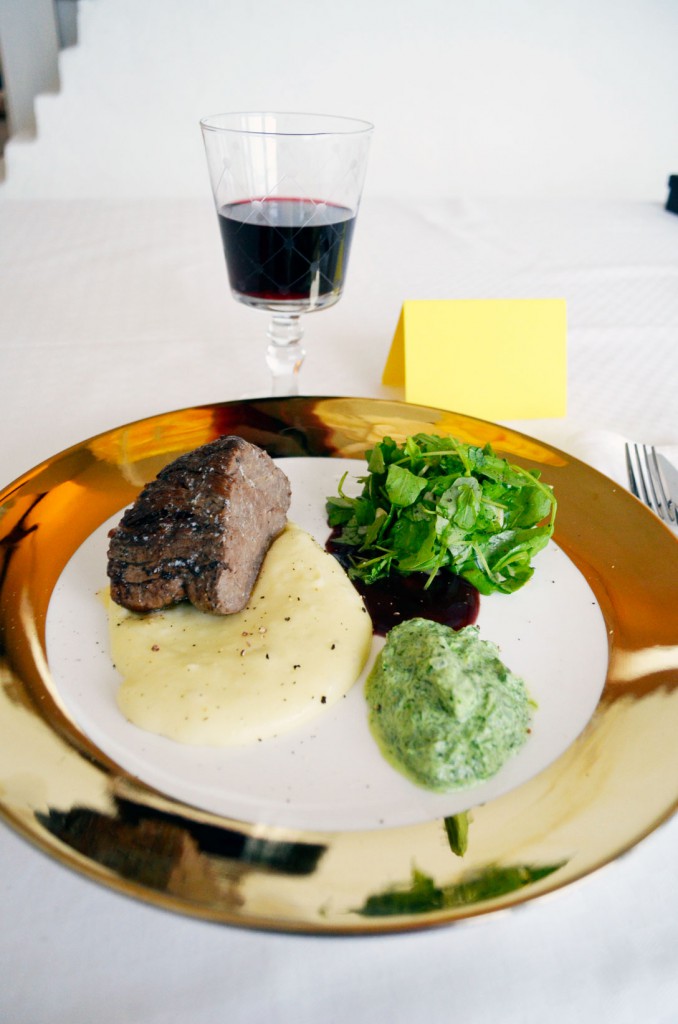 ROASTED BEEF TENDERLOIN WITH POTATO PURE WITH PARMESAN , BALSAMIC AND ARUGULA CREAM
Beef tenderloin with a tasty puree, sweet balsamic and spicy arugula cream topped with chopped almonds. Start with arugula cream and balsamic sauce so they are fully ready before you start with the meat and parmesan pure.
BEEF
2 kilo beef
butter
pepper
salt
POTATO PURE WITH
PARMESAN
2 kilo potato
1 – 1.2 cups of heavy cream
200g Parmesan
butter
pepper
salt
SAUCE OF BALSAMIC
3 tablespoons brown sugar
3 tablespoons balsamic vinegar
3 tablespoons veal stock
1.6 cups of red wine
2-3 tablespoons cornstarch
2 tablespoons butter
ARUGULA CREAM
arugula
Turkish yogurt
liquid honey
salt and pepper
HOW TO DO IT:
Do 5. and 6. first. The balsamic sauce will be fine to warm up just before serving.
1. Brown the meat all around over high heat. Season with salt and pepper.
2. Roast in the oven at 175-200 degrees Celsius. For the beef to be rare, the inside temperature of the roast should be around 60 degrees Celsius. For medium, the inside temperature of the roast should be up to 65 degrees Celsius. Let the meat rest outside the oven for a while before serving. Use a meat thermometer.
3. Boil the potatoes while grate the parmesan cheese.
4. Mash the potatoes and mix in the cream, butter and cheese. Use a hand blender and mmix into a smooth puree.
5. Rinse the arugula salad and drain. Save a few whole leaves for garnish. Mix to fine consistence with a hand blender. Squeeze out the liquid. Mix a few tablespoons yoghurt and season with honey and salt. Place in the refrigerator.
6. Melt the sugar in a saucepan. Then pour in the wine, vinegar and stock. Let simmer for about 15 minutes. Stir in the cornstarch to thicken the sauce. All of this is possible to do in advance. When you later heat the sauce before serving, add some butter.
–
OXFILÉ MED PARMESANMOS, BALSAMICOSÅS & RUCCOLAKRÄM
Helstekt oxfilé med smakrikt mos, söt balsamicosås och kryddig ruccolakräm toppad med hackad mandel. Börja gärna med ruccolakrämen och balsamicosåsen så de är helt klara innan ni börjar med köttet och parmesanmoset.
OXFILÉ
1,6 – 2 kilo oxfilé
smör
peppar
salt
PARMESANMOS
2 kilo potatis
2,5-3 dl vispgrädde
200 g parmesan
smör
peppar
salt
BALSAMICOSÅS
3 msk farinsocker
3 msk balsamvinäger
3 msk kalvfond
4 dl rött vin
2-3 msk maizena
2 msk smör
RUCCOLAKRÄM
ruccola
turkisk yogurt
flytande honung
peppar
salt
GÖR SÅ HÄR:
Gör punkt 5 & 6 först. Balsamicosåsen går bra att värma upp precis innan servering.
1. Bryn köttet runtom på hög värme. Krydda med salt och peppar.
2. Stek i ugnen på 175-200 grader. För rött kött ska innertemp. upp till +60 grader. För rosa kött ska innertemp. upp till +65 grader. Ta ut köttet och låt vila en stund innan servering. Använd en stektermometer.
3. Koka potatisen. och riv parmesanosten.
4. Mosa potatisen och blanda i grädde, smör och ost. Använd en stavmixer och kör moset till en slät puré.
5. Skölj ruccolasalladen och låt rinna av.
Spar några hela blad till garnering. Mixa den fin med en stavmixer. Krama ur vätskan. Blanda med några matskedar matlagningsyogurt och smaka av med honung och salt. Ställ in i kylskåpet.
6. Smält sockret i en kastrull. Häll därefter i vin, vinäger och fond. Låt småkoka i ca 15 minuter. Blanda i maizena till såsen tjocknar. Hit kan du förbereda. När du sedan värmer såsen innan servering  klicka i smöret.
7. Lägg upp maten och avlsuta med att strö över lite hackad mandel.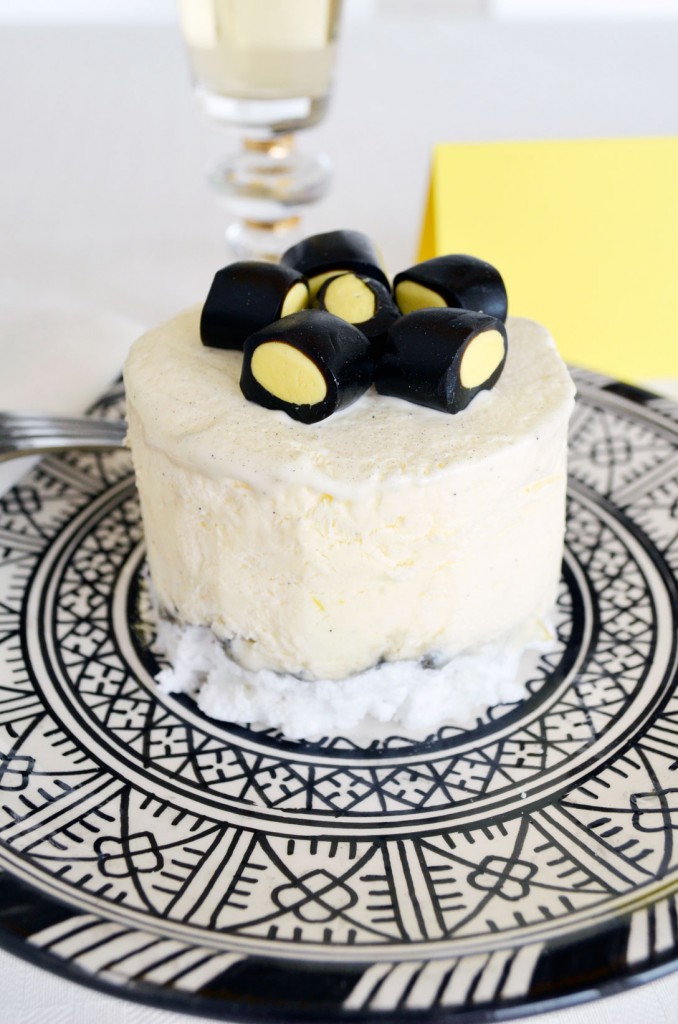 MERINGUE & ICE CREAM CAKE WITH TASTE OF LEMON & LICORICE
Lemon and salt licorice with sweet meringue is a perfect end to New Year's dinner. The cake should be done a day in advance as it needs to stand in the freezer for at least 6 hours.
8-10 PIECES
NOTE. If you like the picture with a small round cake, you need to make two batches to get 10 pc pastries. You also need two molds with removable rim.
ICE CREAM
4 eggs
0.6 cup of sugar
1 vanilla pod
1.6 cups whipping cream
200 g cream cheese
1 lemon
12 bits of Turkish pepper
(Salt licorice hard candy)
Finnish licorice with lemon taste
sparklers before serving
HOW TO DO IT:
1. Take out three bowls. Crack the eggs and divide the yolk from the white into two separate bowls.
2. Beat the egg whites hard and set aside.
3. Pour in the sugar and scrape out the vanilla pod in the bowl with the egg yolks. Whisk vigorously to a porous and almost white batter. Whisk in cream cheese. Whip the cream in a third bowl and add to the bowl with the egg and cheese mix.
4. Mix together egg and cheese mix with the beaten egg whites. Grate the rind of a lemon and squeeze the juice from the lemon into the mixture. Stir
5. Take out a form with a removable rim. Add meringue base at the bottom. Chop the then Turkish pepper hard candy with a mortar and sprinkle over meringue base. Pour in the batter and place the dish in the freezer for at least 6 hours.
6. If you choose to make round cakes, remove the molds and let thaw slightly so that, if you are using a circular cookie cutter, can make 8-10 pastries. Then place the pastries back in the freezer again and take out about 20 minutes before serving and garnish with Finnish licorice and a sparkler that you lit just before serving.
–
MARÄNG & GLASSBAKELSE MED SMAK AV CITRON & LAKRITS
Citron och saltlakrits med söt maräng blir en perfekt avslutning på årets nyårssupé.
Tårtan bör göras dagen innan eftersom den behöver stå i frysen i minst 6 timmar.
8–10 BITAR
Vill du som på bilden göra små runda bakelser kan du behöva göra två satser för att få ut 10 st bakelser. Då behöver du två formar med avtagarbar kant.
MARÄNGBOTTEN
marängbotten (köp en färdig i mataffären)
GLASS
4 ägg
1,5 – 2dl socker
1 vaniljstång
4 dl vispgrädde
200 g philadelphiaost
1 citron
12 bitar turkisk pepper
finsk citron-och lakritskonfekt
tomtebloss vid serveringen
GÖR SÅ HÄR:
1. Ta fram tre skålar. Kläck äggen och dela gulan från vitan i två separata skålar.
2. Vispa äggvitorna hårda och ställ åt sidan.
3. Häll i sockret och skrapa ur vaniljstången i bunken med äggulorna. Vispa kraftigt till en porös och nästan vit smet. Vispa därefter i philadelphiaosten. Vispa grädden i tredje skålen och blanda ner i  skålen med ägg- och ostsmeten.
4. Blanda ihop ägg-och ostsmeten med de vispade äggvitorna. Riv skalet av en citron och pressa saften ur citronen i blandningen. Rör om.
5. Ta fram en form med avtagbar kant. Lägg marängbotten i botten. Hacka därefter turkiskpeppar med en mortel och strö över marängbotten. Häll i smeten och ställ in formen i frysen i minst 6 timmar.
6. Om du väljer att göra runda bakelser tar du ut formarna och låter de tina så pass att du med hjälp av en utstickare kan trycka ut 8-10 bakelser. Lägg därefter in bakelserna i frysen igen och ta ut igen ca 20 minuter innan servering och garnera med finsk lakritskonfekt och ett tomtebloss som du tänder vid servering.