CHRISTMAS SPECIAL – International edition #5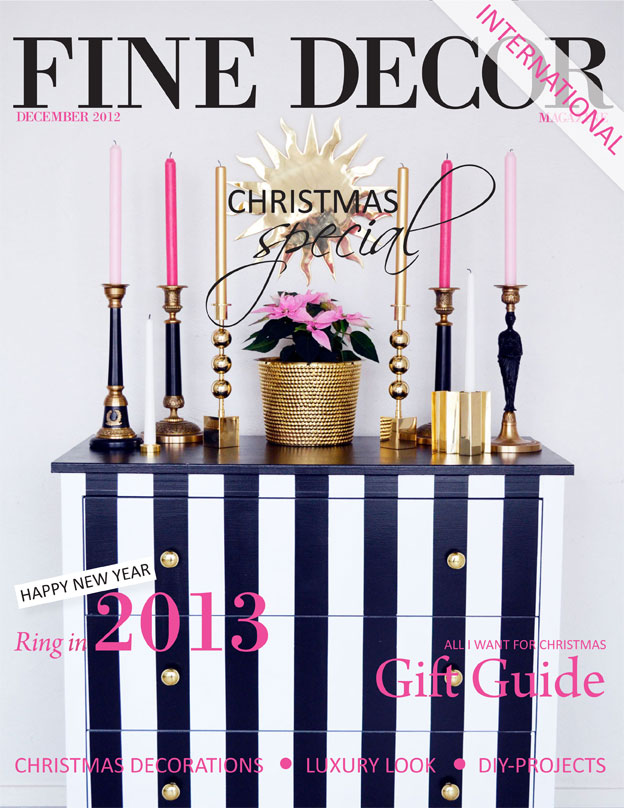 Christmas and New Year is coming up and here in Sweden, the first snow had already fallen. This year it came both early and big. The snow cover is about half a meter thick around the house where I live. It's as it should be around Christmas time. However, it also puts everyday life to the test as train derails, cars get stuck, sidewalks disappear, flights are cancelled and messenger's car with supplies are running late or not showing up at all. Not surprisingly the snowstorm affected even me and the work with Fine Decors Christmas edition. After some delays and some rearrangement, our special issue on Christmas & New Year is finally ready!
This issue differs from the previous ones. It's shorter and focuses entirely on Christmas and New Year. Interviews, fashion, jewelry, beauty and travel pieces are not included in this Christmas-issue, but will of course be back in our February issue in 2013. The content in this issue focus entirely on Christmas decorating tips, DIY projects, and some seasonal dishes.
If you plan to invite to a New Year's party this year, do not miss our great story about New Year's Eve. We will advice on everything; how to make the finest decorations, how to set the table beautifully and how to easily cook a three-course dinner.
Most of this issue's DIY projects are without instructions, it may sounds strange. Of course you should be able to see how we did it. So where instructions are missing, a date indicates when the instructions will be presented on our new blog; blog.finedecor.se, so keep on eye out for that!
I would also like to thank all of you for the past year. It has been rewarding, inspiring and incredibly fun! I have deliberately produced slightly different content in the magazine during this year. Issue 3 (July/August) had more focus on interior design and decoration, while Issue 4 (October/November) more focused on interviews. Number of readers also differ between these two issues, and based on that, I have taken the decision on how the contents of the upcoming issues for 2013 will look like. The magazine will still feature inspiring interviews but will also feature style & fashion, beauty, travel and food. Decoration and Interior will take more space in the magazine, which many of you readers have requested!
During 2013, Fine Decor Magazine will be releasing eight issues including two special editions; one wedding special and one Christmas & New Year's special. The first 2013 issue will be released in February 2013. You can read more about some of the content on page 64.
Only one thing remains and that is to wish all of you a pleasant reading and a Merry Christmas and a Happy New Year!
Angela Gotborn
Editor in chief