COLOURFUL RIBBON LAMP
Do you have a lot of pieces of ribbons lying around at home? Too short to wrap around a present? Too fine to throw away? We give you one new solution! Make a colourful ceiling light pendant, or several. Can be used for everyday or installed at a party as a luxurious decoration.
–
Har du en massa bitar av band hemma som ligger och skräpar. För korta för att slå in ett paket med. För fina för att slänga. Vi ger dig lösningen! Gör en färgstark taklampa, eller flera. Kan användas både till vardag eller plockas fram vid fest som en lyxig dekoration.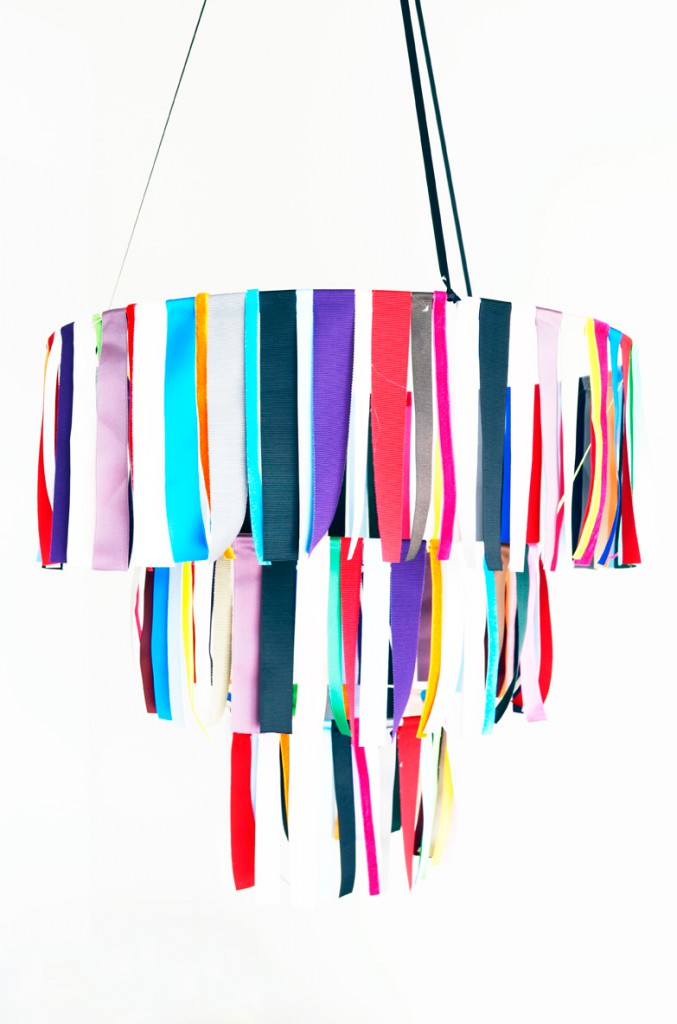 The ceiling light consists of three sections in the form of circular rings that have been tied together.
All you need is three rings of steel. They can be found in assorted stores who sell lamps, or preferably a specialist lamp manufacturer.
If you cannot get hold of the rings you can try to take them from an old lampshade.
What you need is; A bunch of pieces of ribbons in different colours, widths and grades, glue gun and scissors. Then, just to get started!
–
Taklampan består av tre sektioner i form av runda ringar som knytits ihop.
Allt du behöver är tre olika ringar i stål. Finns att köpa i lampaffärer, gärna en specialiserad på just lamptillverkning.
Får du inte tag på ringar kan du ta från en gammal lampskärm.
Ett gäng bitar av band i olika kulörer, bredder och kvalitéer, limpistol och en sax. Sedan är det bara att sätta igång!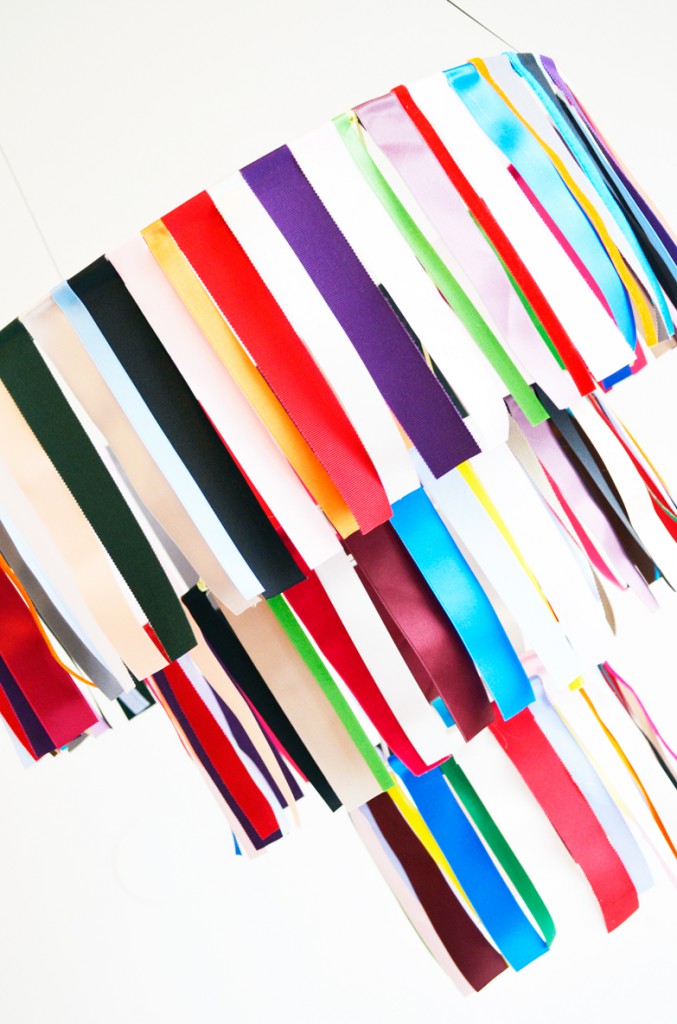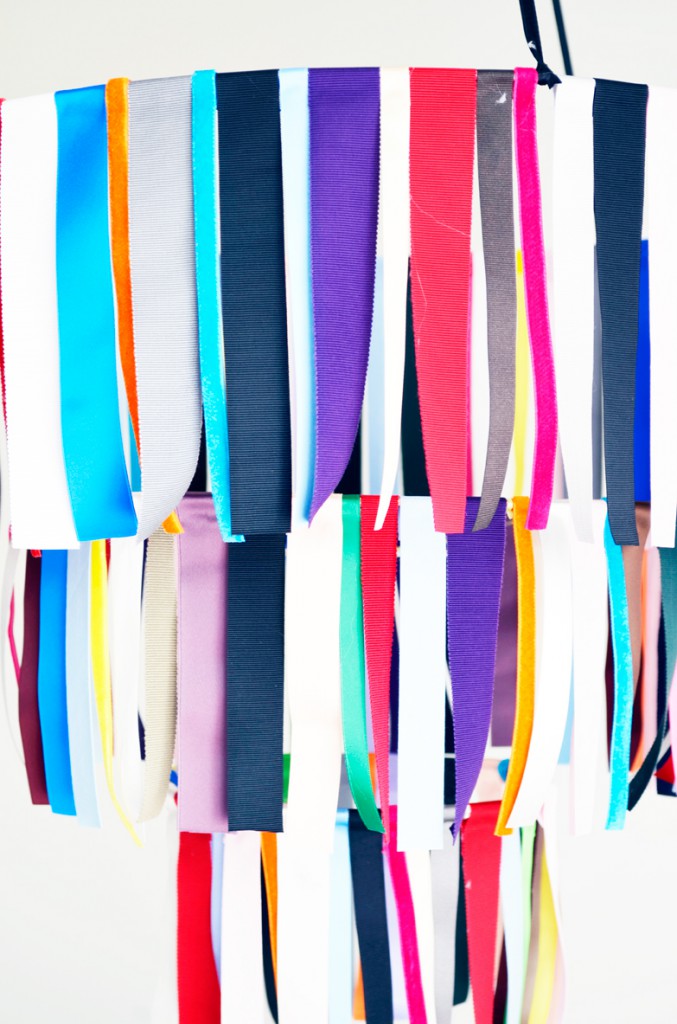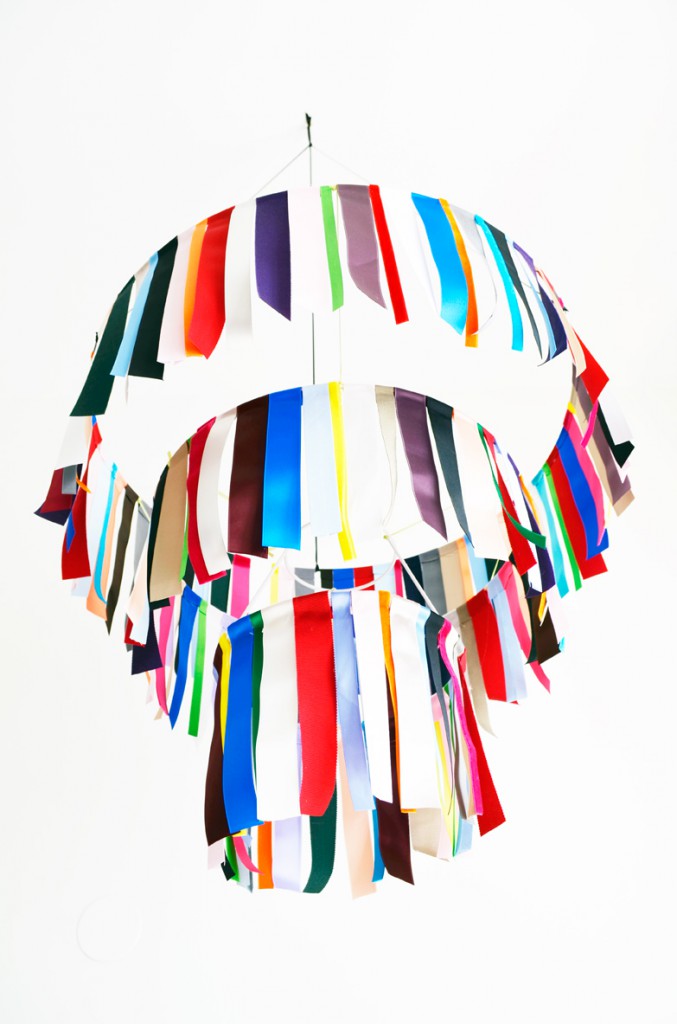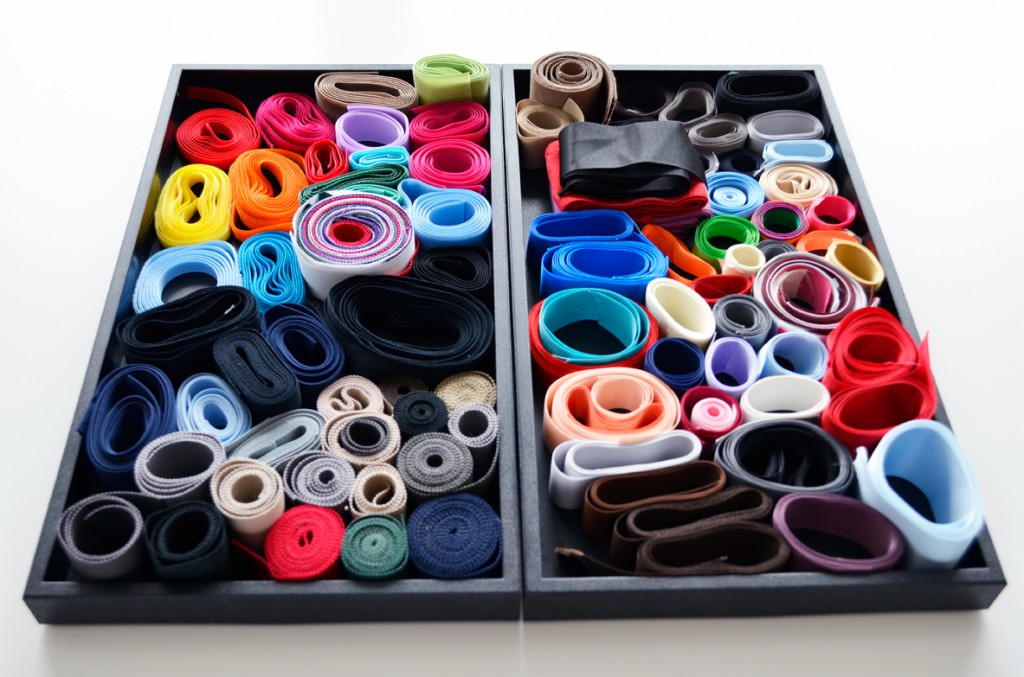 1. MATERIALS:  Bands in different colours, widths and grades. We used cotton ribbons, satin ribbons and velvet ribbons. Cut ribbons into about 20 cm pieces. It is better to make them a little too long since you cut and adjust the ribbons afterwards.
–
1. MATERIAL: Band i olika kulörer, bredder och kvalitéer. Vi använde oss av bomullsband, ripsband, satinband och sammetsband. Klipp banden i lagom längd, ca 20 cm. Börja hellre med lite för långa band eftersom du klipper och justerar banden efteråt.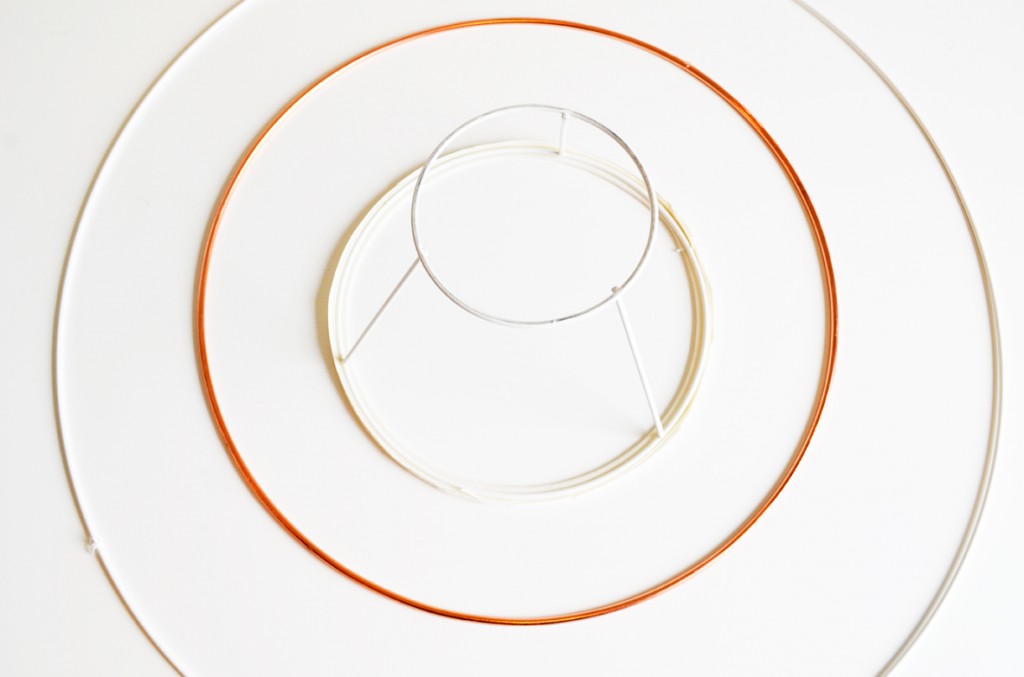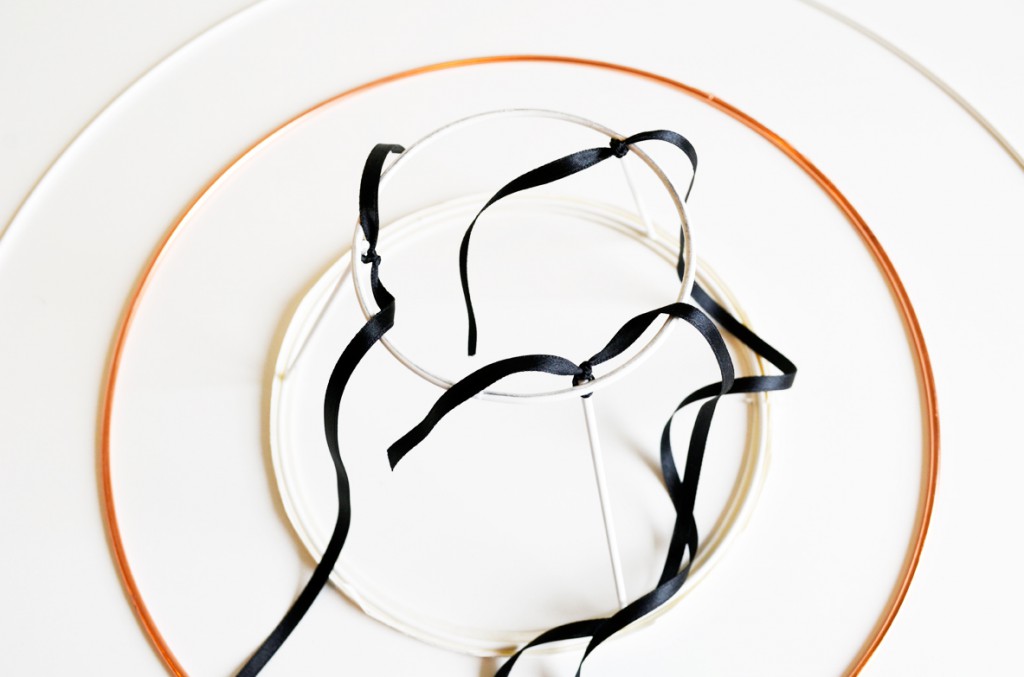 2. You need three rings in metal lampshade rings. The rings should be of different sizes.
Tie a thin satin ribbon in three different places on the largest of the rings. Gather the ends of the ribbon and tie. Hang the ring in a ceiling hook and tie together the second largest ring and the smallest. It can be a bit fiddly to get the rings to hang straight and with correct distance. Do not give up!
–
2. Du behöver tre stycken ringar i metall, lampskärmsringar. Ringarna ska vara i olika storlekar.
Knyt ett tunt satinband på tre olika ställen på den största av ringarna. Samla ihop ändarna på bandet och knyt ihop. Häng upp ringen i en takkrok och bygg på med den näst största ringen och därefter den minsta. Det kan vara lite pyssel med att få ringarna att hänga rakt och på lika avstånd. Ge inte upp!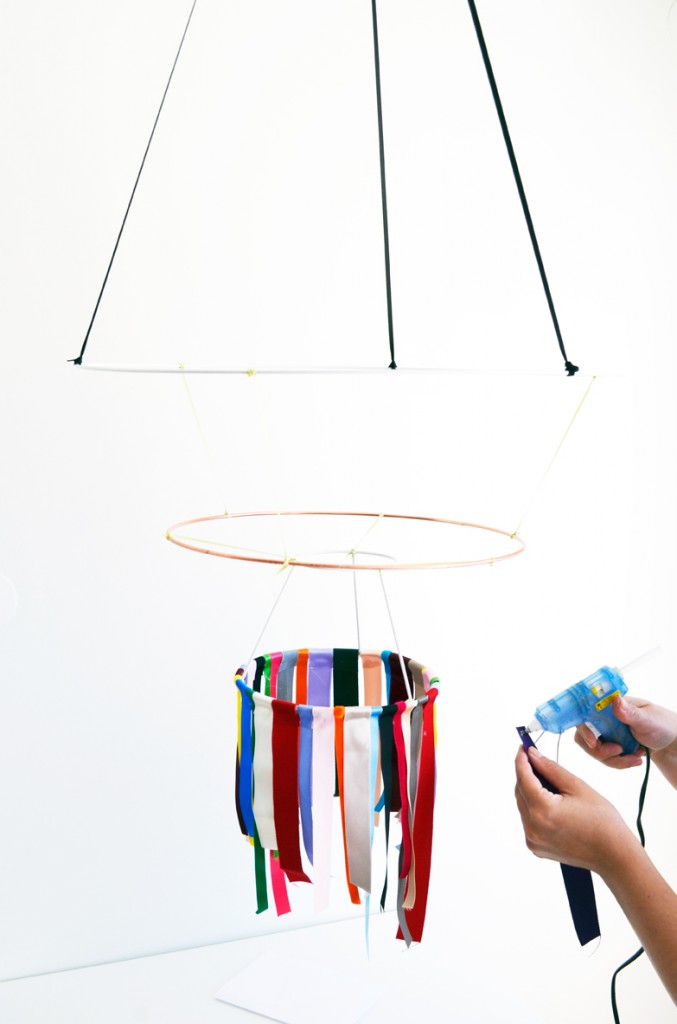 3. When the rings are in place, the fun begins. Attach your ribbon pieces around the small ring, then the middle and finally the largest.
Attach the ribbons by putting a small dab of glue at the tip of one end. Wrap around the ring and fasten.
–
3. När ringarna är på plats börjar det roliga. Fäst dina bandbitar runtom den lilla ringen, därefter på den mellersta och sist på den största.
Fäst banden genom att sätta en liten klick lim längst ut på den ena änden. Vira runt ringen och fäst.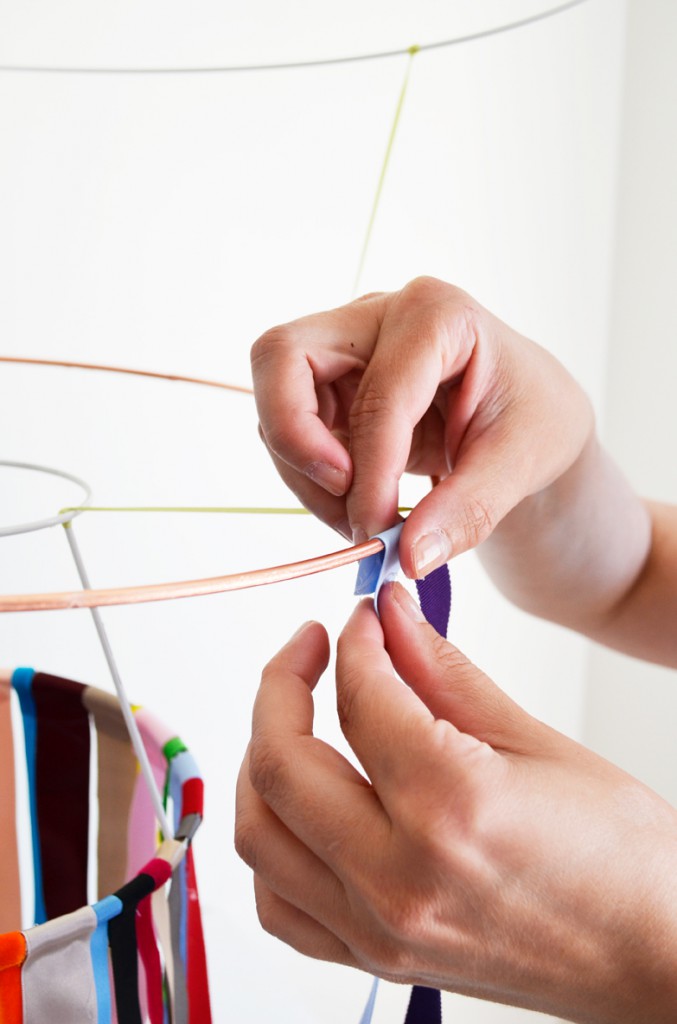 4. Attach the ribbons edge to edge.
When ribbons are fitted across all rings, you can fine-tune the edges by cutting them into the same length if you want a straight edge.
Volià, a new ceiling light pendant!
–
4. Fäst banden kant i kant.
När du fäst band runtom på alla ringar så finjusterar du kanterna genom att klippa de i lagom längd och i samma längd om du önskar en rak kant.
Volia, en ny taklampa!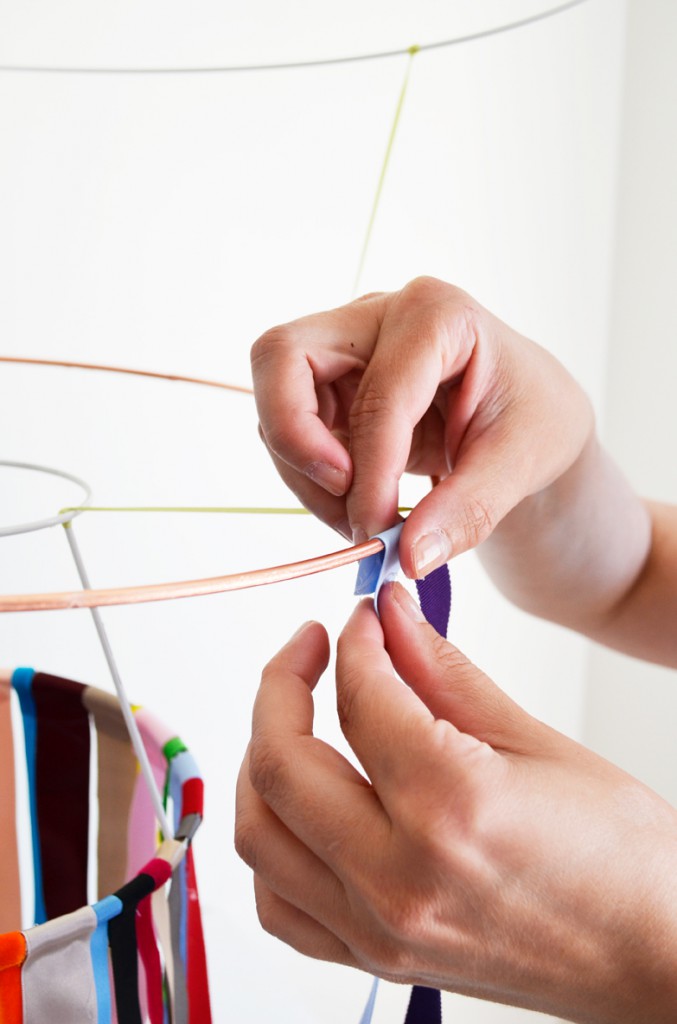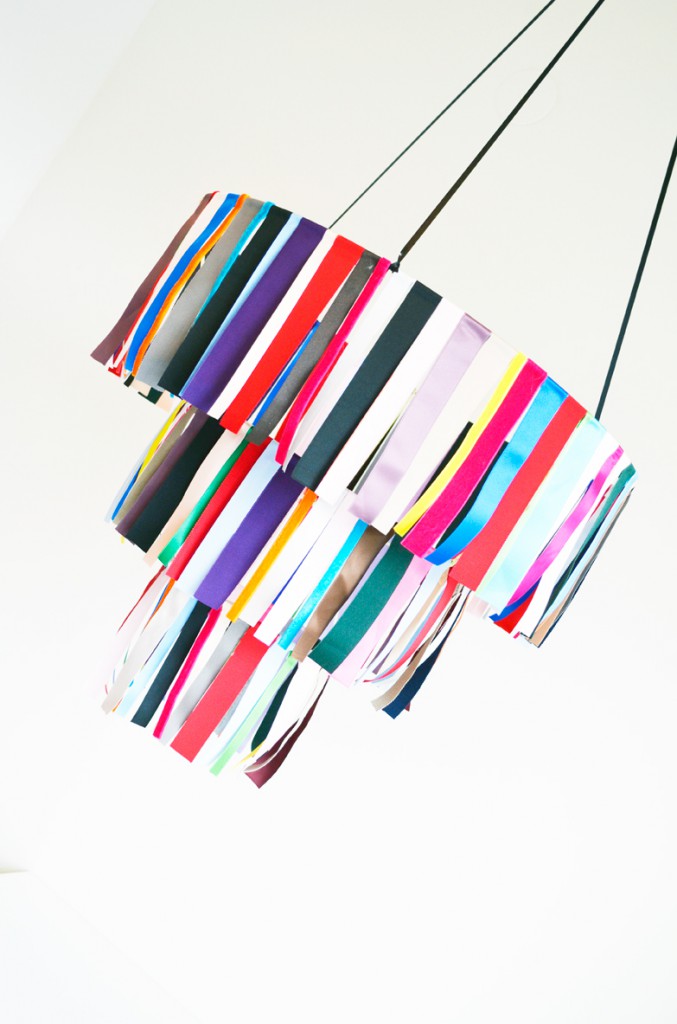 Read in Fine Decor Magazine 4; http://magazine.finedecor.se/t/27609/25