CANDY WREATH
This lovely and unusual wreath which is decorated with chocolates, salted caramels and small marshmallows may some of you remember. It was previously featured in Fine Decor Magazine No. 1. I want to bring to your attention that I'm working on setting up a gallery / library with articles and interesting post that previously appeared in the magazine. These posts will eventually be available in both Swedish and English. You can find the gallery under the link Gallery on www.finedecor.se
A wreath body is often covered with some sort of plant or flowers. But why not do something completely different, like this one, where we have created a wreath with luxury chocolates, handmade candies and small marshmallows. This wreath is made of edible materials, but since we used glue, they should not be eaten. Let the confectioneries remain as decoration.
The finished wreath can be used for many different occasions throughout the year. Use it as a wreath and hang it up, or let the wreath be placed on the table as a beautiful table decoration. Or why not use it as a candle stick. Make holes for lights in the styrolite, before dressing it with candy. As holders for the candles, you can use aluminum mini cups made for ice chocolate.
–
Den här fina och annorlunda kransen som är dekorerad med chokladpraliner, salta karameller och små marshmallows känner några av er igen, kanske. Den har tidigare varit med i Fine Decor Magazine nr 1. Jag vill påmina er alla om att på finedecor.se under galleri håller jag på att bygga upp ett galleri/biblioteket med artiklar som förekommit i tidningen. Dessa inlägg kommer så småningom finnas både på svenska och engelska. Ni hittar galleriet under länken Gallery på www.finedecor.se
En kransstomme kläs vanligast med någon sorts växt. Men varför inte gör något helt annat, som här, då vi klätt en kransstomme med lyxiga praliner, handgjorda karameller och små marshmallows.Den här kransen är gjord av ätbara material, men eftersom vi klistrat fast konfekten så bör de inte ätas upp. Låt konfekten sitta kvar som dekoration.
Den färdiga kransen passar vid många tillfällen, hela året om. Använd den som en krans och häng upp den, eller låt kransen ta plats på bordet som en vacker bordsdekoration. Eller varför inte använda den som en ljusstake. Gör hål för ljusen i styroliten, innan du börjar klä den med konfekten. I ljushålen och som hållare för ljusen kan man använda små formar för ischoklad (de i aluminium).
1. Select some fine chocolates and truffles, preferably with some color. We chose chocolates that were white, light brown, dark brown, with different designs and colored decorations.
Choose fine handmade candies that fit well with pralines. Fill out gaps with the small white marshmallows.
In addition to chocolates and candies, you need glue, use no glue gun on the chocolate pralines. However, when gluing the sweets the glue gun can be used. A wreath body made out of Styrolite or styrofoam, brown craft paint, a paint brush and a ribbon if you want to hang the wreath on your door, or aluminum mini cups made for ice chocolate if you want to make a candlestick.
–
1. Välj ut fina praliner och tryfflar, gärna med lite färg. Vi valde praliner som var vita, ljusbruna, mörkbruna, med olika mönster och med färgade garneringar.
Välj fina handgjorda karameller som passar bra tillsammans med pralinerna. Fyll ut med små vita marshmallows.
Förutom praliner och karameller behöver du ett bra lim, ej limpistol till chokladpralinerna, men med fördel till karamellerna. En kransstomme i styrolit/frigolit, brun hobbyfärg, en pensel och ev. ett band om du vill kunna hänga upp kransen, eller ischokladformar om du vill göra en ljusstake.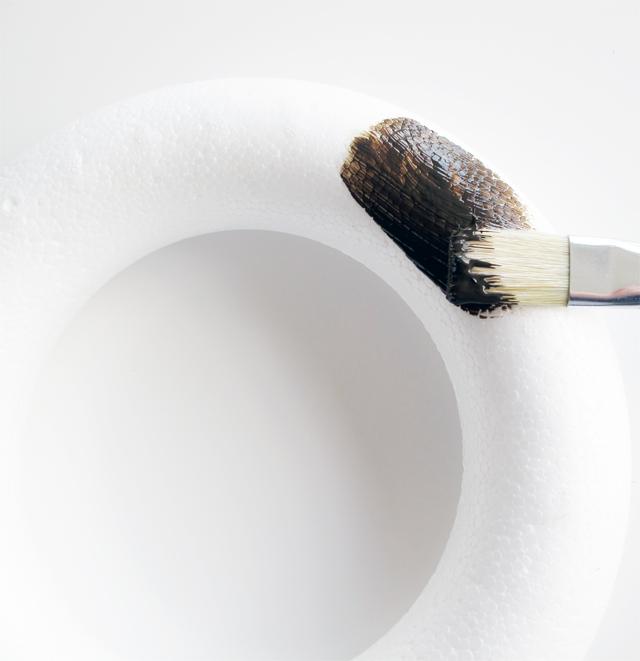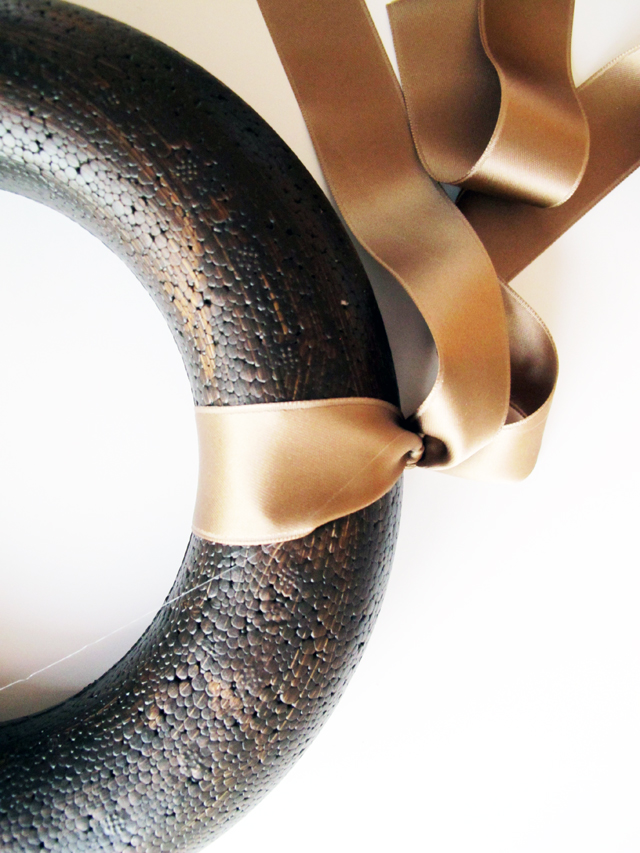 2. Paint the wreath body completely with the brown colour, let it dry. Then attach a fairly wide and long strap or ribbon, or make holes for the lights. It is easier to adjust the strap length afterwards using scissors.
–
2. Måla kransstommen runtom med den bruna färgen, låt torka. Fäst därefter ett ganska brett och långt band, eller gör hål för ljusen.  Det är lättare att justera bandets längd efterhand med hjälp av sax.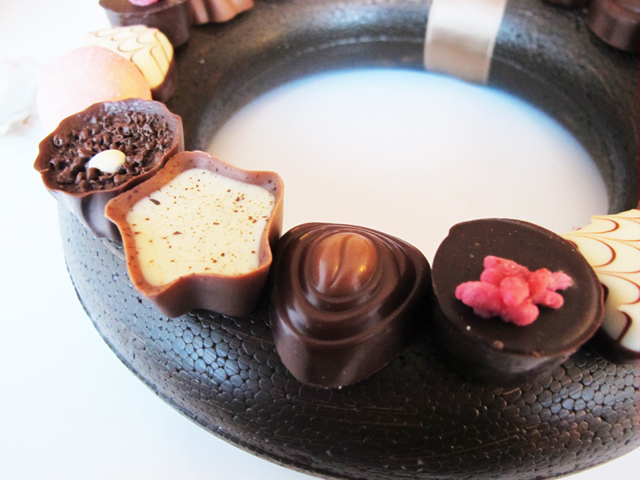 3. Glue the confectionery. Start with chocolate pralines and attach them thoroughly with proper glue. The handmade candy can be attached using a glue gun. Continue until you feel satisfied. Let it dry thoroughly. Enjoy!
–
3. Limma därefter fast konfekten. Börja med chokladpralinerna som fästes tålmodigt med ett bra allroundlim. De handgjorda karamellerna går bra att fästa med en limpistol. Fyll på tills du känner dig nöjd. Låt torka ordentligt!